I try to keep up to date on the latest and greatest baby tech. It doesn't always mean I end up using them but I love seeing how baby products are evolving and I am always looking for the next greatest thing to make my life as a mom just a little bit easier.
Enter CES, the Consumer Electronics Show. An annual event held in Las Vegas where the best consumer technology products are on display. From 3D printing and drones, to robotics and sensors, every year the buzz around what we will see at CES grows.
CES 2017 was no different, and here are just a few of the baby tech items that caught my eye.
*Disclosure: This post contains affiliate links. What the hell does that mean? It means that if you click one of the product links below and purchase something, I am eligible for compensation. Carry on.
Fisher-Price Smart Cycle
Fisher Price debuted their Smart Cycle and I have to admit, I was pretty damn skeptical at first. It reminds me of the iPad potty seat
that I think is absolutely ridiculous. How lazy are we that to get our kids to exercise we have to sit them in front of their tablet? Buuuut, I will say, it's the dead of winter and my kids are bouncing off the damn walls right now, so maybe a morning workout with my kids isn't such a bad idea? I suppose I shouldn't hate on anything that gets a kid to move, especially if the apps on the tablet are educational.
Freemie Hands Free Breast Pump
My days of pumping are done (and my boobs are grateful) but I remember all too well the pain, discomfort and inconvenience pumping can have. Every time I see a woman at work carrying that discreet HUGE black tote bag I give her a nod and smile in solidarity.
So I was pumped (see what I did there?) when I saw the Freemie hands free breast pump. To be free of the power cords and to be able to move around and continue your day would be a huge improvement. I always felt trapped and useless while pumping. What to do when you are mid pumping session but your oldest needs help wiping his ass after taking a dump?? With the Freemie, hopefully you could continue pumping while coming to the rescue of your toddler's toosh.
Fisher-Price Code-a-pillar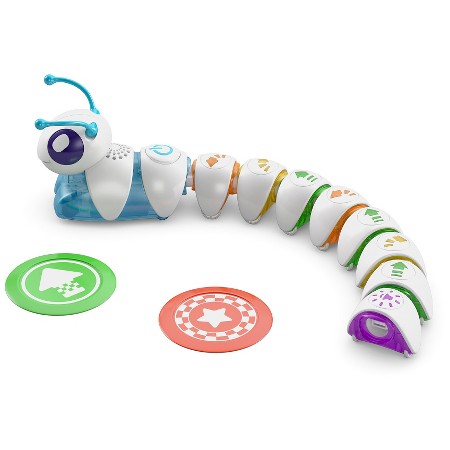 How cute is this little guy? Fisher-Price showed off one of their toys from the Think & Learn line, the Code-a-pillar. Kids can rearrange the segments of the caterpillar to send him on different paths. The real challenge for kids will come when they try to rearrange the segments to get the caterpillar to reach a certain point. This certainly gets kids exposed to sequencing and their critical thinking skills will be challenged. Did I mention he's also cute?
When you near the end of your pregnancy every little twinge you feel makes you think it must be a contraction. More often than not it's gas. Or maybe Braxton Hicks. But you always wonder if its the beginning of THE event.
Bloomlife has created a wearable that tracks contractions so you can get a sense of whether they may be the real deal or just the after affects of too many burritos. You place the wearable under your belly button and it syncs with your smartphone. It tracks any contractions that are happening while showing you trends and timing so you can have a better idea if it's time to head to the hospital (and not time to grab a sandwich from Subway. Not that that happened to me or anything.).
Although I couldn't agree more that having, or not having, contractions can be confusing, Bloomlife currently has a monthly subscription pay structure for their product at $150 per month. I'm not sure why most women with a healthy pregnancy would need it for more than a month or two, so that structure seems a little confusing to me, and it also seems pricey.
TempTraq
Wireless Thermometer
This is my favorite product from the CES coverage I saw. (Check out my review after using it!) I always
overreact when my kids have a fever. I immediately jump to worst case scenarios and am constantly checking their temps to try and track any changes I see. And that is no easy feat. Running a toddler down to stick a thermometer either under their arm, in their mouth or even across their head is a ridiculous challenge. Then there's the fear of the fever spiking overnight. So do you wake the child to try and get another reading? Or just hope they get through the night.
TempTraq
aims to help ease all those worries with their wireless thermometer. You put their wearable sensor underneath your child's arm and you will get continuous temperature readings right to your smartphone. No more guessing, no more checking incessantly. And you can even set up alerts so if a temperature spike happens in the middle of the night you'll know.
The only drawback to this product is that it's a one time use. The adhesive must wear off eventually, so you'll have to have a couple of these on hand and they run about $20 each, so that can add up quick during flu season.
Here are a few more baby tech products to check out:
Naya Smart Breast Pump: A hospital grade pump that promises less pain and discomfort through it's unique water massaging technique that aims to help relax the breast for more natural release instead of using air to pull the milk out. A boob massage sounds way better to me!
Edwin The Duck
: An app connected smart toy that kids can use from birth through their toddler years and can even go in the tub!
Elvie Kegel Exerciser
: An exercise tracker for your pelvic floor that gives you real time feedback so you can improve your workout for stronger results.
Winnie: an app (only iOS right now) that helps parents find fun stuff to do with their kids.
Snoo Smart Sleeper: A modern designed bassinet that incorporates white noise and gentle rocking to ease your baby to sleep.
Ava: A fertility tracking wearable with real-time detection of when you are most fertile.
Kaishi: A fetal heart-rate monitor for pregnant women that connects via bluetooth to a smartphone app.
POMO Bebe: A health tracker that tracks body temperature, movement, sleep quality, child loss prevention and more, all tailored to your baby's health.
That's a wrap for my CES 2017 baby tech picks. Maybe next year we will see a robot that can change diapers? I would be first in line for that.
Follow Selfies to Selfless on Facebook and Twitter and Instagram!